Guest Comments / Testimonials
This is the cutest condo, everything you need is here. Right across the street from the beach, with a great place to snorkel, shopping right next door Resturant's next door in both directions. You really don't need a car as you can take the bus all over the Island. I have rented Earl's condo many times and this is the only place I stay. Earl is wonderful to work with which makes it so easy. If you are lucky enough you might even get to meet him and Mary. They are so very. Nice.
Aloha,
Jackie
Jackie Magill
My husband and I loved the location and convenience of Kihei Kai Nani! My parents stayed in your Kam Sands condo and we were just 10 minutes away! We will definitely be back and wish we were there right now as the snow accumulates here in Denver, Colorado (and it is May!!).
COVID did not rain on our parade. We had a great time, once our COVID test was in and we arrived.
Dreaming of Maui and Kai Nani.
Tammy Carpenter
This was our first visit to Maui and we found the condo location to be ideal.
We especially appreciated all your pre-visit info and tips and then all the extras in the condo were a big hit (toys, cooler, plastic ware, beach towels, etc.) the condo was quite comfortable and the pool was the best!
The beach was so convenient and fun! Thanks again for your hospitality. We will cherish our memories of our first visit to this island paradise.
Mahalo !
Steve, Jeannie, Barbar Bowser Albuquerqui, NM
Thank you so much for sharing your condo. We had a wonderful time.
The location was perfect – we enjoyed the whole island.
Your personal touch is all over the condo and we appreciated it. The wood carvings are beautiful.
Doug Tiedt and Debbie Vieave Madison WI
Earl and Mary
With much sadness this is our last trip here.
We have had several very happy years in this unit. We couldn't have dealt with two nicer people than you. Our hearts will always be here in Kai Nani.
Thank you both for all your kindness.
Jim and Arlene Sima La Grange Pk Ill
Earl and Mary,
Aloha and Mahalo for the use of your beautiful space.
This is our second time visiting the KKN and your #218. We will be back for a third! It always amazes me just how fast time can fly when you are here.
Thanks again. We'll be in touch
Scott Serena Mhiyn & Miama
Maple Ridge, BC Canada
Earl and Mary, thank you so much for sharing your lovely condo with us.
We came here after staying in Waikiki for a week and enjoyed the peace and quiet of this magical place. Will always remember these lovely moments spent in Maui for our honeymoon and do hope to come back.
Mahalo
Amelie Blondin, Simon Boulet — Montreal, QC, Canada
Bruce, Catherine, Nicolaas & William – Richmond B.C.
We really enjoyed your condo!
Thankyou for having everything that we needed. Everyday we would start out jumping in the waves at Makena Beach, my kids loved it.
Thank you again,
Catherine, Bruce Nicolaas + William
Thank you very much for sharing your beautiful home with us.
We had a wonderful time and it made us feel like a home away from home. The beach accessories, kitchen and location are awesome.
We hope to return again and appreciate your hospitality.
Aloha and Mahalo,
Rita Wimmere Brooklyn NY
Hello Earl –
The Good Lord willing and the creek don't flood we hope to visit Maui next year – Dates are now firm Arriving 05 Jan, departing 22 Jan for a total of 17 nights. Would love to stay in your unit if available – please advise.
Cheers Bill and Jess Mazey
Earl and Mary, We had a great time at your Maui condo, The view from the Lani was so pretty I think we had the best place their!! Jeff and I hope to make it back very soon
Best regards Kathy
Earl:
We just got back from your condo. I just want to tell you that your condo was the best that we've ever stayed in.
We have been to Hawaii over 50 times, and stayed in many condos, but yours beats them all.
You have a fantastic location, both geographically in Kihei, location on the property, and the incredible views. We really loved the ocean views form both the living room and bedroom.
All of your supplies and equipment were complete and elegant. The amenities are superb, and the condition of the entire condo was A-1.
We certainly look forward to returning next year. Thanks.
Bob Solton
Earl,
We had a great time in your Maui condo.  The unit is well decorated and appointed.  We lacked for nothing.
A little feedback?  You might want to discard the diving mask.  The straps are broken.  We found it in the Lanai, but it is virtually useless.  We would have thrown it out for you, but decided to just let you know it's state.
The kitchen utensils, towels, boogie boards…everything else were wonderful.  We will definitely recommend your place to others.
Best regards,
The Giacalone's and Devine's
Dear Earl,
I just wanted to contact you to say how much I enjoyed my stay in your condo.  The location overlooking the pool was perfect.  We all (my girlfriends) and I had a great time and as I have stayed at the Kihei Kai Nani several times in the past, I think it is a place that can't be beat.
Thank you again for a very enjoyable and comfortable stay.
Joan Emri
Aloha Earl,
I just wanted to send you a quick e-mail to tell you how much we enjoyed staying at your condo..we had beautiful weather the entire 2 weeks we were on Maui – it was wonderful.
We spent many hours walking on the beaches and just soaking up the warm sun.
The condo itself was great and we especially enjoyed sitting out on the lanai every morning eating breakfast.
We did do a bit of touring and flew over to Oahu one day to tour Pearl Harbour, the Dole Plantation and had supper at the North Shore.
We took the tour bus on the Road to Hana and were very glad that we did as my husband was able to enjoy the scenery instead of worrying about the driving.
All in all, it was a wonderful holiday and we are planning on going back.
Mahalo and thank you.
Cindy Mullis
Aloha !!! Earl,
We want to let you know we truly enjoyed our stay in Kihei . The condo was perfect, close to all the fun things and necessities .
We definitely want to return. Fred felt better there than he has in over a year! Thank you again for such a great place to stay, we felt right at home.
Mahalo, Alice and Fred
Aloha Earl,
Thank you so much for the beautiful stay in your nice condo. All of it was excellent. We will definetely come back, when we return to Hawaii. Our best friends are going to Maui in October and they will perhaps contact you soon.
So mahalo again, take care and all the best.
Regards Torsten & Katrin
Just wanted to let you know we had the best time and loved the condo. We look forward to going back next year.
Irma
Hi Earl and Mary,
Keatra and I got home last night… I just wanted to send you a quick note thanking you again for having us in your home.
The condo had everything we needed and more; it was our Maui home away from home.
Very comfortable, and you were so helpful in answering any questions I had, even if some of them were very last-minute!
Thank you so much… I would be thrilled to stay there again on future trips, and I will definitely tell friends about it.
Sincerely,
Lindsey
Hello Earl,
Just a note to say how much we enjoyed our stay at your condo at Kihei Kai Nani. It was wonderful. We have never stayed anywhere that was as well stocked. We should have checked the cabinets before we went to the store.
The unit was great. We may call you next year.
Thank You,
Bill & Carol Richter
Hi Earl,
We thoroughly enjoyed using your Kihei Kai Nani apartment. The many "extras" such a full slate of cooking condiments and sports equipment helped us make this an easy vacation. The property management group was cheerful and helpful and seems to do a good job. Your location is wonderful because we are able to walk for many services.
We will seriously consider returning to your location if we return to Maui, and that is a distinct possibility.
Cheers, Lloyd Davis.
Hi Earl,
I'm sorry I'm a little slow in getting back to you.
I did have a terrific stay while in Maui. (I'm of the opinion it's difficult to have a bad stay in Maui, and if you do, it's your own fault!) Your condo is terrific and is in a wonderful location, so thank YOU for allowing me to rent from you, as well as for being so accomodating. I'll definitely keep your place in mind on my future visits there.
Just so you know, I did receive the deposit check on Saturday so we're all set as far as that is concerned.
You have a great year as well Earl!
Mahalo,
Charlene
What a great place to stay. The condo was really close to everything including beaches, the volcano and restaurants.
The unit was incredibly well equipped, the kitchen had a French press grinder and coffee.
Beach equipment was also provided.
Everyone in the condos and office we're friendly and helpful. We appreciated how quiet the unit was and all the tropical plants on the grounds making the unit feel more private and creating the ambiance of a tropical Paradise. The entire place felt really laid back.
We'll be back when we can.
Kiam P
from our TripAdvisor/FlipKey web page -Left on Jun 15, 2017 for a stay in May 2017
This Maui condo is perfect for people who want to be incredibly close to the beach without paying the high price.
The condo itself is very comfortable, has everything you need for a great stay (beach towels, beach chairs, coolers, kitchen tools, etc.), is a prime location for gorgeous sunsets at the beach across the street, is next to the pool if you prefer, and is super close to super markets, restaurants, food trucks, and the greatest dive bar next door. In addition, Kihei is a great spot for a variety of beach options, snorkeling, biking, but close enough to visit other parts of the island and airport as well.
To top everything off, Earl made the process very easy and clear cut. Definitely will be returning as soon as I can!
From our VRBO/HomeAway web page
Harlie B.
Dear Earl and Mary
Thank you for the wonderful condo to help us celebrate our 50th Wedding Anniversary. We were very comfortable and had a great time around the island, even enjoying a big rainstorm. We culminated our trip with a fantastic anniversary dinner at Mama's Fish House.
Thank you for sharing your cozy spot with us!
Karen and Pat Hughes
Whidbey Island, WA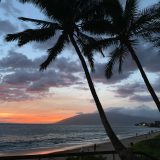 Hi Earl,
Your condo across the beach was great. Had everything you needed including beach toys and towels, ice chests, nice kitchen. We saved a ton of money by being able to rat breakfast in. Every morning I took a nice walk to the beach literally steps away. Saw some turtles and we even snorkeled in the morning and saw the fishes one day. It had A/C with wonderful ceiling fans that kept us nice and cool. So convenient to walk to restaurants and shops. Will definitely look you up when we travel to Maui again! – Thank You!
Helen Joe
Hi Earl,
We are back home after having spent two wonderful weeks in Maui at your Kihei Kai Nani apartment. The apartment was exactly as promised – very comfortable, well equipped, and affordable.
We found the proximity to the beach, shops and restaurants perfect.
Thanks also for your prompt responses to my emails and queries.
Mahalo
Liz and Dave
Elizabeth van Rooyen
My best friend and I traveled to Maui for a girls' week. Earl made everything super easy, sent confirmation emails when payment was received, and got us the deposit back almost right away following our trip.
As far as the condo goes, it had all the supplies we needed. The pull-out sofa bed was extremely comfortable. It was nice being so close to both the beach and the condo swimming pool. I can't say enough good things about this condo and the whole experience. I recommend it to everyone who tells me they are traveling to Maui!
Julia Miller