"Behr's Escape" Maui Condo Rental – Kihei Kai Nani Resort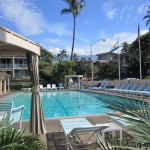 Covad 19 Testing:
All travelers arriving in Hawaii from out-of-state will be required to show proof of a valid Negative COVID-19 test taken within 72 hours prior to their arrival, in order to avoid the 14-day quarantine beginning October 15, 2020.
O
ur 1 bedroom "Behr's Escape" Maui Condo Rental in south Maui
offers you both a partial Ocean View, and a beautiful garden view to Mt. Haleakala looking over our large 30 x 60 fresh water pool and tropical gardens. An Upgraded 2nd floor, corner unit, #218 in bldg 4, with extra windows to enjoy those tropical breezes and additional light.
Begin each day by sipping your morning coffee on the private lanai, watching beautiful sunrises over the top of Mt. Haleakala, while tropical birds call out to each other, and hear the Francolin bird with its morning wake-up call.
Stroll down to our beautiful Kamaole II beach for a morning swim, or take a dip in the large fresh water pool. At days end, back to the beach again for watching glorious sunsets. Check out our reasonable Rate Schedule.
The Kihei Kai Nani is a popular low-rise resort on six acres of tropical gardens in South Kihei, Maui. Walk amidst coconut palms, smell the sweet blossoms of Plumeria trees, marvel at the bananas growing right outside your window, enjoy the hibiscus and other tropical flowers throughout.
Truly paradise.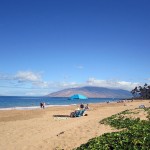 Only 100 yards to Kamaole II Beach – Gentle sloping white sand with gentle waves, perfect for swimming, snorkeling, and watching sunsets, also whale watching in the winter months. Perfect family beach for all ages, young and old alike.
Between Kamaole II and III is a reef that offers especially good snorkeling. Combined, the 3 beaches Kamaole I, II and III stretch nearly a mile and offer beautiful views of Islands Molikini, Lanai and Kahoolawe as well as West Maui. Ocean temperatures range from 75 to 83 degrees.
Beach Park amenities: Lifeguards, restrooms, showers, volleyball court, picnic tables, and grills, children's playground, and grassy areas behind the sand; perfect for family outings with young children. View beautiful Maui Photos.
---
Have A Question?
Call us at 916.684.6659 (PST) or click HERE to use our convenient Contact Form.